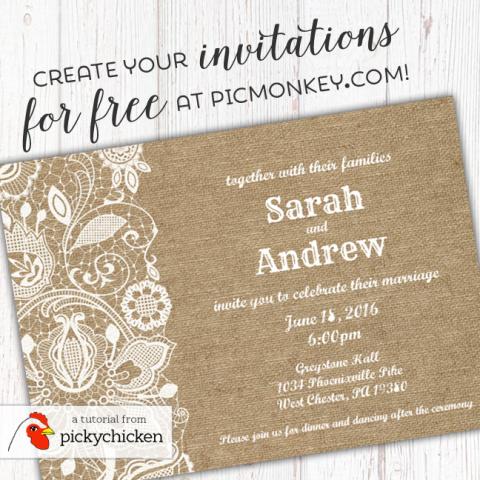 Picmonkey.com is a great alternative to Photoshop - it's simple to use, no need to download software, and many of its great features are free!
Plus, you can save your final art in high resolution, making it a great choice for invitations, party printables, table tents ... anything that you want to print crisp and clean.
In this post, I'll walk you through creating your own invitation in Picmonkey.
From the picmonkey.com, click the Edit button:
You then choose an image from your computer (I used one from my Burlap and Lace collection)
The image is placed on your picmonkey screen:
Add a text box using the text tool on the left side:
A floating Text box appears where you can change the text color, size, and more:
Continue to add as many text boxes as you need:
Are all the text boxes you added kind of dancing all over the place? Get them in line with this trick:
With your sheer rectangle/guide in place, start lining up those text boxes!
Check for any typos or inaccuracies - and having someone else proof it is ALWAYS recommended!
When you are ready to save your invitation, just click Save at the top.
For the highest resolution, choose "Sean" (I don't know who he is, either), and save it to your computer. Woo hoo! You are done!
A final note - since picmonkey doesn't let you save a "working" file, you might want to leave this browser window open, in case you notice changes you want to make after printing the invite.